The Select Module
Select's cutting-edge benefit analysis tool is built to intelligently interrogate best-in-class benefit offerings to the workforce. It's a simple and unique solution to the RFP process and can function either independently or as part of an interlocking enrollment ecosystem.

This unique and comprehensive benefit administration solution was created from feedback of Brokers, Carriers, TPA and industry experts.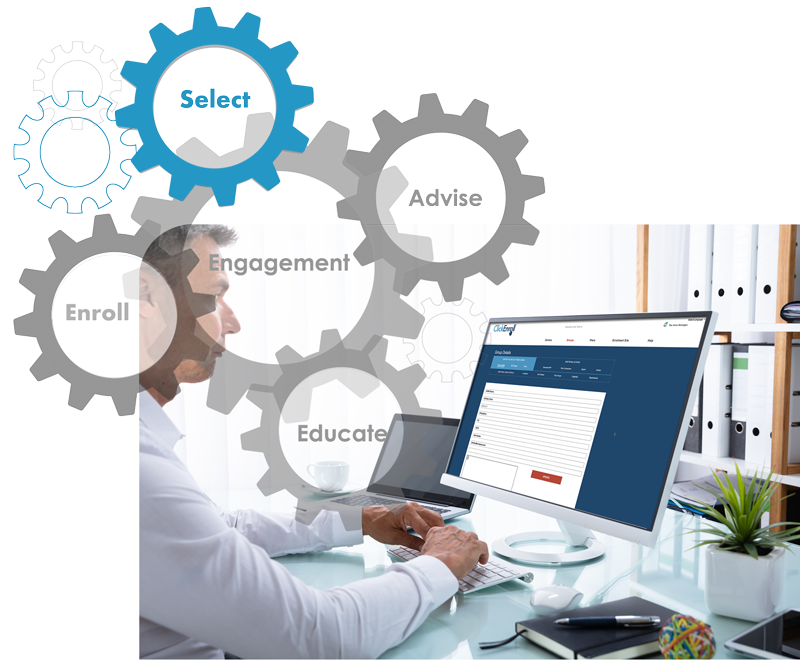 The Select module is the portal for Brokers, Enrollment Companies and Carriers to manage their Groups, RFP's and benefit plans.

Proposal Generation
Select's proposal process generates and submits RFP's to prospective carriers.
A data driven benefit library automates data exchange in real time.

Offer/Quote Response
Carrier responses are uploaded to Select, storing the responses for best-in-class comparison.

Best-In-Class Selection
Our best-in-class algorithms determines which carrier offer is superior. This allows for a more efficient negotiation with the carriers to optimize the employee benefit offer and secure the best price.

Express Setup
Select's ability to instantly publish the enrollment parameters eliminates administrative complexities. Seamless and secure data forwarding enables instant implementation.

Contact our enrollment experts for a demonstration.
getstarted@clickenroll.info
888-816-1484
200 Decadon Drive
Egg Harbor Township, NJ 08234
www.clickenroll.info