Broker Solutions
Looking for enhanced competitiveness and profitability in a challenging Broker marketplace?
You've found the solution with ClickEnroll.

ClickEnroll delivers workforce engagement and client satisfaction through an affordable and dynamic benefit enrollment and administration solution.

Get a jump on the competition with ClickEnroll's unique solutions!
ClickEnroll Select expedites the case set-up process.
Select's cutting-edge benefit analysis tool is built to intelligently interrogate best in class benefit offerings to the workforce.

Proposal Generation
• Select's proposal process generates and submits RFP's to prospective carriers.
• A data driven benefit library automates data exchange in real time.

Offer/Quote Response
• Carrier responses are uploaded to Select, storing the responses for best-in-class comparison.

Best-In-Class Selection
• ClickEnroll Advise determines which carrier offer is superior. This allows for a more efficient negotiation with the carriers to optimize the employee benefit offer and secure the best price.

Express Setup
• Select's ability to instantly publish the enrollment parameters eliminates administrative complexities.
• Seamless and secure data forwarding enables instant implementation.
Our unique and comprehensive benefit administration solution was based on the feedback from Brokers, Carriers, TPA and industry experts.
Here's how we've answered the call for time savings efficiencies for Brokers.
ClickEnroll Select's intuitive interface reduces the work of case set up and sends out the RFP requests with a single click.
ClickEnroll Advise integrates with the Select process to generate plan comparison, identify best in class results, and make benefit recommendations for the workforce. Recommendation are based on the individual persona and changing life events, but also consider purchasing power and buying habits.
Enrollment that seamlessly integrates with any enrollment platform. Our LDEx API structured file component can be used by any platform that subscribes to the LDEx standard.
Complete benefit enrollment and administration support managed through our full featured benefit administration solution.
Real-time virtual enrollment assistance and chat support.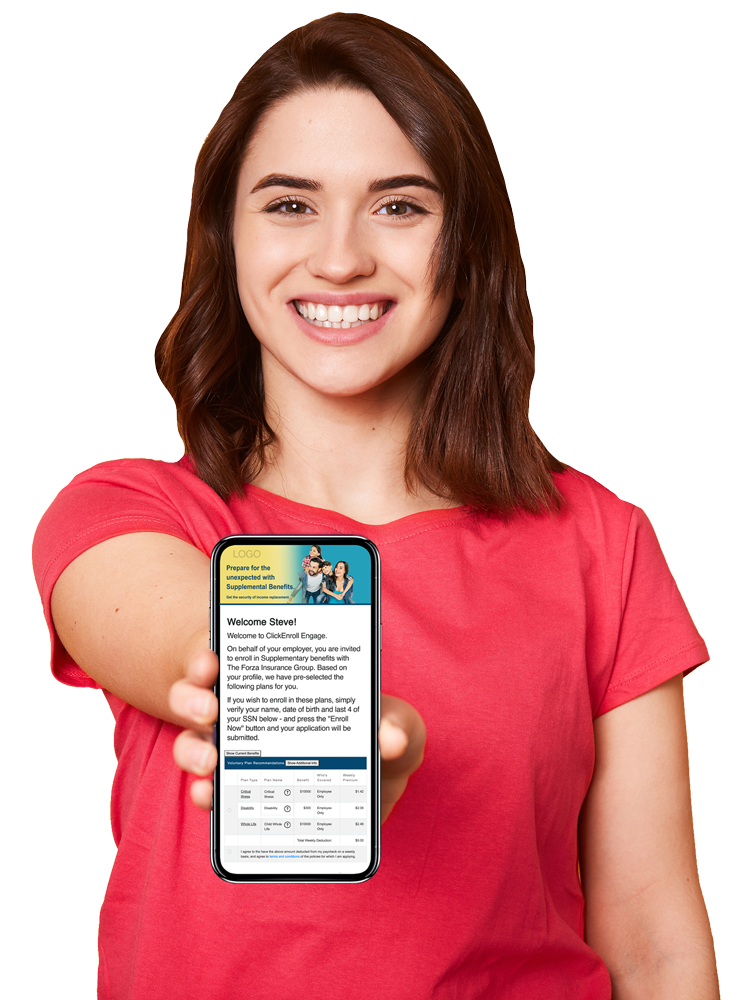 200 Decadon Drive, Suite 235
Egg Harbor Township, NJ 08234
www.clickenroll.info